Mortgage rates forecast for August 2020
Mortgage rates have hit five new all-time lows in less than three months.
But don't expect the winning streak to continue.
Our prediction: Mortgage rates will bottom out in August, then rise in anticipation of the 2020 U.S. election.
Want to capture the lowest mortgage rates of all time? Better lock in now.
Predictions for August
August could hold new record-low mortgage rates that may puncture the psychologically significant 3% barrier.
We think this mortgage rate rally which started in early 2020 still has some steam.
Yet, there are no guarantees. There's no reason to wager on lower rates. As this is written, Freddie Mac reports a 3.03% average 30-year fixed rate. It marks the fifth time in 75 days that rates have broken a new record.
At this cadence, you would think new lows are commonplace. To the contrary, we haven't seen rates comparatively low since 2012, and before that, not once since Freddie Mac started tracking data in 1971.
Today's mortgage rates are literally the best they've ever been, and potentially the best they'll ever get.
The bottom line is that rates could go lower in August 2020 and beyond, but why would someone gamble when they could capture a best-ever rate right now?
Lock in today's rates before they rise. (Jul 22nd, 2020)
Mortgage rates next 90 days
This chart shows past mortgage rate trends, plus predictions for the next 90 days based on current events and 2020 forecasts from major housing authorities.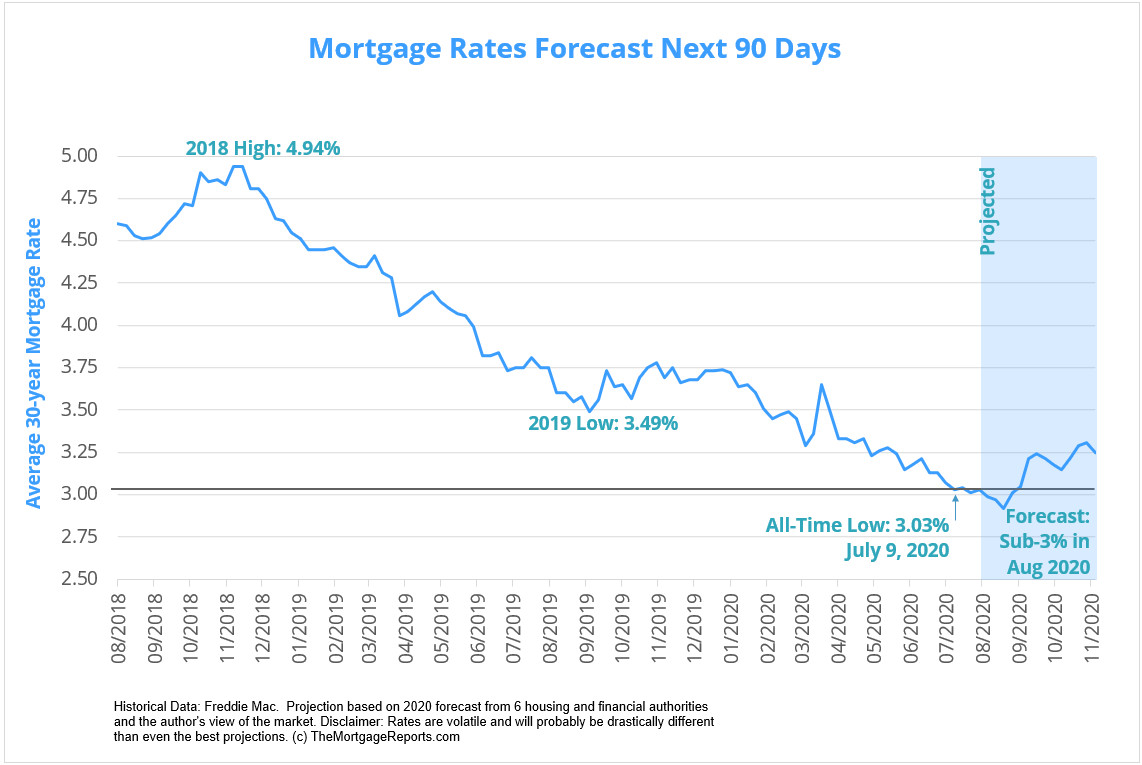 Markets will focus on COVID-19 developments
COVID-19 has painted an unexpected picture compared to what 2020 was supposed to be.
This was going to be another year of economic expansion, and along with it, higher rates.
Yet, the economy contracted faster than any time in history. Rates fell in response, as they tend to do in highly uncertain times.
But what does the future hold for rates? It depends on only one factor: COVID-19.
Mortgage rates could skyrocket back to 2018-2019 levels in mere days if a viable vaccine were announced. That appears a long way off still, though.
In fact, containing the virus by any means seems impossible, at least in the U.S. Just when we thought we were "flattening the curve," many states have reported a record number of cases upon re-opening.
California and Nevada have already reversed re-opening guidance to try to curb explosive outbreaks.
The inability to get the U.S. economy going again will all but ensure low rates for the foreseeable future. Maybe not all-time low rates past August, but significantly lower than most of history.
We're in a new reality where a 30-year mortgage rate in the 2s could become the norm.
And, while we're predicting rates for well-qualified applicants to dip into the high 2s, that's no reason to become complacent.
Our advice: capture a once-in-a-lifetime mortgage rate now. Rates are already at 50-year lows. While we see a meaningful chance that rates will drop to fresh lows, there's certainly no guarantee.
»RELATED: Conventional Loan Requirements: You Don't Need 20% Down Anymore
Our prediction: First-ever sub-3% average mortgage rates
The markets say mortgage rates should be about 2.4% right now.
Yes, you read that right: 2.4%.
But there are a couple reasons rates aren't that low:
Lenders can't handle the volume
Investors aren't buying mortgages at the expected rate
For mortgage rates to be rock-bottom, there needs to be a huge demand from investors to purchase these ultra-low-interest mortgage bonds. Typically, investors buy mortgages as a safe-haven investment when the stock market is tanking.
But investors are hesitant because 1) they are afraid homeowners will refinance again, eliminating the earned interest and; 2) they are fearful of defaults and forbearance, as coronavirus threatens people's jobs and businesses.
But in a few months, some things could happen to bring about another round of all-time-low rates.