Mortgage rates forecast for June 2021
Mortgage rates could stay close to 3% in June, as they've done this spring.
But when it comes to overall trends, we're far more likely to see a steady increase in rates than any substantial drop.
Some agencies predict rates as high as 3.5% or 3.6% by the end of summer. Others think we'll see a more modest increase to around 3.3% in the same time frame.
Though exact forecasts vary, the consensus is for higher rates in the near future.
Locking a rate soon could secure you a great deal, while waiting on further drops is risky.
Mortgage rates forecast next 90 days
Mortgage rates are closely tied to the health of the U.S. economy. And the country as whole is on an upswing, which should lead to higher rates in June and the coming months.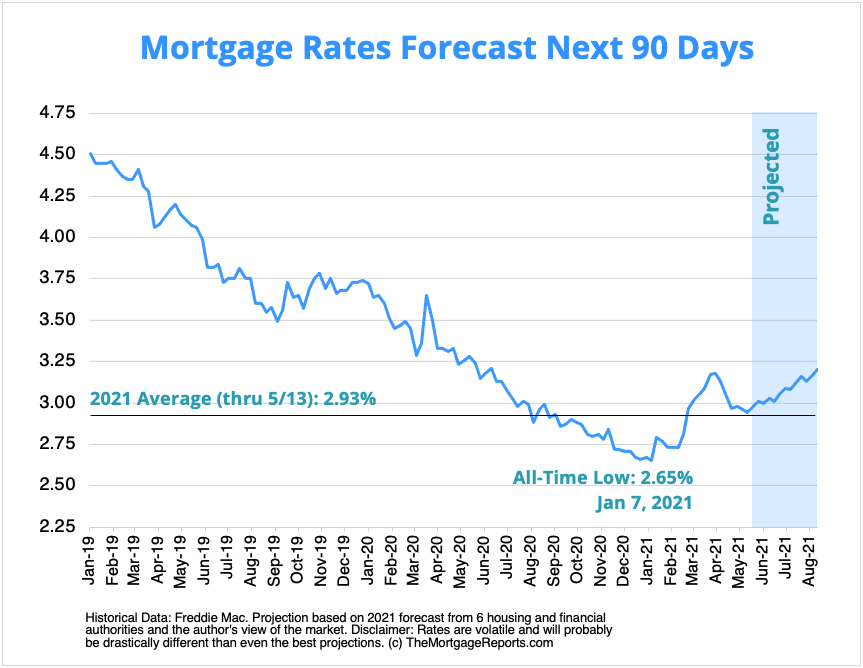 However, recovery has been a bit uneven.
Some indicators, like the inflation rate, are soaring. Others, like the current employment situation, are off to a rockier start than expected.
Mortgage rates could continue to fluctuate as a result.
But while some weeks might bring dips and others spikes, expect to see an overall upward trend as 2021 progresses.
Tim Lucas, Mortgage Reports Editor